This article explains how you can use TestGorilla assessments within the Recruitee ATS.
You can connect TestGorilla to your Recruitee account, allowing you to invite candidates to an assessment and see the summarized results inside Recruitee. This article explains how that works. The Recruitee integration is available for users of the Pro plan.
Approx. reading time 2 minutes
In this article
Activate the integration
The integration between Recruitee and TestGorilla is set up from inside your TestGorilla account.
Note: Only the owner of your TestGorilla account can set up the integration.

Click your name in the top right corner of the browser and select the Integrations option from the drop-down menu.

Locate the Recruitee integration and click the Enable button, to generate your API key.


Copy the API Key.

In Recruitee, go to Settings > Integrations > TestGorilla .


Insert the API key, and hit the Integrate button.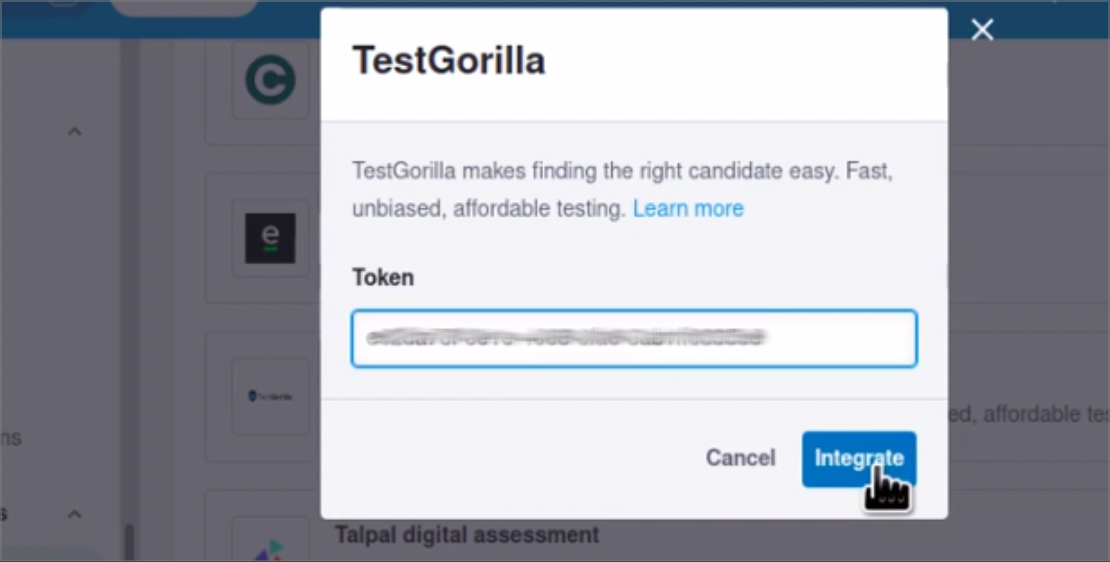 Note: Once the integration has been activated, all new TestGorilla assessments will be available from within Recruitee. Assessments made prior to activating the integration will not be available.
Invite candidates
You'll invite candidates to assessments from inside of Recruitee.

From the Recruitee dashboard, go to Candidates.


Choose a candidate and select More > Send TestGorilla test.


Select the relevant assessment from the list and press the Send button. The candidate will receive an email inviting them to take the assessment.
Visualize results
Once a candidate starts their assessment, their status in Recruitee will be displayed as In progress. When a candidate completes their assessment, the status will change to Complete. At this point, a summarized result will become available.
The results section in Recruitee includes:
Detailed test scores
Anti-cheating monitor information
Click the Open button to visit the full results in TestGorilla.

Note: You must be a registered user of your company's TestGorilla account with appropriate user rights in order to see the full results of a candidate's assessment.
Common questions
Why doesn't an assessment show up in my list of available assessments?
If the assessment is still active, the integration was most likely turned on after the time the assessment was created. Only assessments created after the integration was activated will be available.