When we stop offering a plan to new customers it becomes a Legacy plan.
Our team works hard to make sure TestGorilla gets better each day. This often means new features and improvements, new tests, and even localizing into other languages. As TestGorilla evolves, our plans do as well. Our priority is to offer legacy customers a policy for plan changes that are fair and transparent, but we also have to be mindful of doing what's right for the business long-term.
Approx. reading time 2 minutes
In this article
What is a Legacy plan?
When TestGorilla stops offering a plan to new customers, it becomes a Legacy plan. Customers who had these plans when they were discontinued were given the option to remain on them for the time being. However, the plans are no longer offered to new or returning customers.
On your Plan & billing tab, you'll see the word legacy in parenthesis next to your plan name, if you're on a Legacy plan.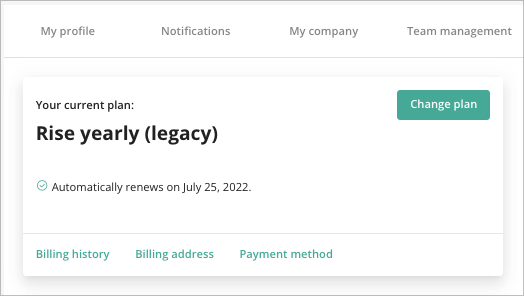 How this might affect you
If you're on a Legacy plan, you'll be able to continue with the plan when it's time for it to renew, but eventually, you will be migrated to one of the new plans. Of course, we will notify you before we make any changes to your plan, as detailed in our Terms of use.
If you are a returning customer and your previous plan is no longer listed on our pricing page, it's now a Legacy plan. You will not be able to purchase your old plan. You will have to choose from one of our current options.
June 2022 changes
On June 21, 2022, we made changes to our Pay-as-you-go plan. If you signed up for Pay-as-you-go before this date, your plan will continue for one year with the features that it included at the time of purchase.
When your plan comes up for renewal, you will automatically be renewed on our current Pay-as-you-go plan. If you have questions about feature changes between the two plans, please search your inbox for our email or get in touch with our success team.
Common questions
I am a returning customer. I would like to continue my previous monthly subscription. How can I do this?
TestGorilla no longer offers monthly plans. You would need to choose from our current yearly plans. This allows you to have your full yearly allowance of credits available for use immediately, preventing any potential disruption to your hiring process.
My Legacy plan has expired, but I need to access information from previous assessments. How can I do this?
You'll need to upgrade to one of our current paid plan offerings in order to access data on an expired plan. If you have questions regarding this, please let us know.
Where can I find information about what my legacy plan includes?
The Plan & billing tab details the number of credits included with your plan, along with how many have been used. If you have further questions, please reach out to our support team.