Automatically determine if your candidates meet minimum requirements before they take your assessment.
Some jobs require specific things that a candidate must have, regardless of how great they are. Imagine hiring a bus driver who doesn't have the proper license? Our qualifying questions feature can help you determine if candidates satisfy your minimum requirements before they take your assessment — saving both of you time. Qualifying questions are available to users on the Starter and Pro plans.
Approx. reading time 3 minutes
Tip: Using qualifying questions is especially helpful if you place a public link for the assessment in your job post. This enables you to open up your assessment to a large audience, while only assessing (and paying for) qualified candidates.
In this article
How qualifying questions work
Qualifying questions are multiple-choice questions presented before the assessment begins. You can add up to five of them in each assessment, and they are designed to help you filter out candidates that don't meet the minimum requirements for your job. You can quickly ask people if they speak a specific language, their highest level of education, or if they possess the required certification to do the job at hand.
If the candidate does not answer all of the qualifying questions correctly, they will be disqualified. This means they will not be presented with the assessment. Instead, they will be presented with a screen telling them they do not meet the requirements for the position.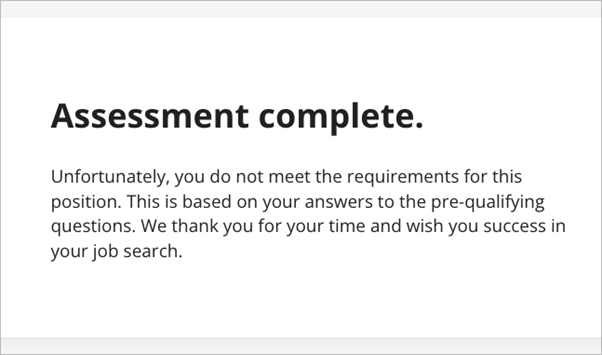 This saves both you and your candidates time: they won't spend time on the assessment, you won't spend time reviewing their application, and neither of you will spend valuable minutes in an interview only to discover that you can't hire them, no matter how great they might be.
Writing qualifying questions
Use qualifying questions only for those must-have, nonnegotiable candidate qualities. If the criteria is something you can work around if the candidate is otherwise great, you're better to include this as a custom question.
Qualifying questions are especially appropriate for ensuring that a candidate has such qualifications as:
A valid driver's license
A professional license
A diploma or specific degree achieved, or its equivalent (if educational attainment is required)
Physical ability to meet the job requirements (such as the ability of a warehouse worker candidate to lift a certain weight)
The ability to work on-site or remotely
The ability to work the required schedule (if no scheduling flexibility is possible)
The legal right to work in the country
The best qualifying questions clearly outline the qualification required and ask the candidate to select either "Yes" or "No."
When candidates are rejected based on their answers to the qualifying questions, they should not be surprised or feel as if they could have answered the questions differently.
Note: Qualifying questions should never be used to gauge someone's knowledge or skills. Add questions of this sort to custom questions instead.
Including qualifying questions that do not represent the must-have, nonnegotiable qualifications of the job or that ask illegal questions can lead to legal problems for your company.
Setting up qualifying questions
You can set up qualifying questions in Step 4 of the assessment creation process in two different ways:
Create a new question
To create a new question from scratch:
| | |
| --- | --- |
| | Click the New question button. This will cause a new window to appear with the question generator. |
| | Type your question into the text editor on the left. |
| | Add answer choices on the right. |
| | Select the correct answer to the question. |
| | Click the Save button when you're finished. |
Copy a question from a previous assessment
If you've used qualifying questions on a previous assessment, choosing this option allows you to reuse questions from it. To do this:
| | |
| --- | --- |
| | Click Copy questions from another assessment |
| | Select the assessment you'd like to pick a question from. |
| | Select the question(s) you'd like to use. |
Tip: Can't remember which assessment contained a question, but you think you've used the question before? Use the search bar to search for the relevant question.
Edit, reorder, and delete questions
Once questions have been added to the assessment, hover your mouse over any of them to see the reorder, edit, and delete icons.

| | |
| --- | --- |
| | Reorder your questions with the up and down arrows. Alternatively, you can drag & drop the question to the place you want it to appear in the list. |
| | Edit your question by clicking the pencil icon. This will open the question editor in a popup so you can make changes. |
| | Delete your question by clicking the trash can icon. |
Caution: You cannot make changes to any part of an assessment once you invite your first candidates, so it's important to double-check that you have set up these questions exactly as you want them before inviting any candidates.
Identifying disqualified candidates
You'll know a candidate was disqualified from the assessment overview page. The status of the candidate will be disqualified. Qualifying questions are the only way a candidate can get this status. They will also be given a hiring status of Rejected.
Reviewing the answers a candidate gave
The candidate results overview page includes a section for qualifying questions. To see the correct answer, as well as the answer that was chosen:
Click on the question you'd like to review. This will cause it to open and show more information.

Review the answer options. The candidate's selected answer is shown in the radio dial to the left of the options.

Correct: Signaled by a teal radio dial and a checkmark.
Incorrect: Signaled by a red radio dial and X.
Common questions
Will I be charged for disqualified candidates?
Nope! Disqualified candidates are never presented with the full assessment. If you are on a legacy plan, this also means they do not use a candidate credit.
What plan do I need to use qualifying questions?
Qualifying questions are available to users of our Starter and Pro plans. Please check our pricing page for the most up-to-date information about our offerings.
Could using qualifying questions lead to legal problems?
There are many factors that affect the legality of certain qualifying questions. In particular, the precise nature of the job you are hiring for and the jurisdiction in which you and/or your candidates are located can greatly affect the answer to this question. If you're unsure, we strongly suggest seeking legal advice before proceeding with a particular qualifying question.