Custom questions can be used to request more specific information from your candidates.
Custom questions are an important part of an assessment. While our tests can assess and score your candidates based on various skills, custom questions are your opportunity to ask questions pertaining to your company or specific job role. You can receive the answers to your questions in a method of your choosing. Though these questions can be written yourself, we do offer a library of prewritten questions as well. Custom questions are part of the assessment-making process, so can be created by Owners, Admins, and Recruiters.
Approx. reading time 6 minutes
Tip: Are you more of a visual and auditory learner? The video explainer at the bottom of this guide is perfect for you. 😀
In this article
Custom question types
There are five custom question types available to you:
Below you can find summaries of the different question types, when to use them, the time limit options for how long your candidate has to answer, and examples of use.
Multiple-choice
A question with a limited set of answers — between two and ten — from which the candidate can choose.
When to use
For closed questions, when you want to limit the possible answers from your candidates
Time limit options
30 seconds
45 seconds
60 seconds
2 minutes
Example of use

Essay
A question where the candidate can provide an open-ended answer with text.
When to use
For open-ended questions, when you don't want to limit the possible answers.
Time limit options
1 minute
2 minutes
5 minutes
10 minutes
30 minutes
45 minutes
1 hour
2 hours
3 hours
Example of use
Video
A question where the candidate answers with a video recording of their response.
When to use
Useful in multiple scenarios, when you want to see how a candidate expresses themselves
Time limit options
30 seconds
1 minute
2 minutes
Example of use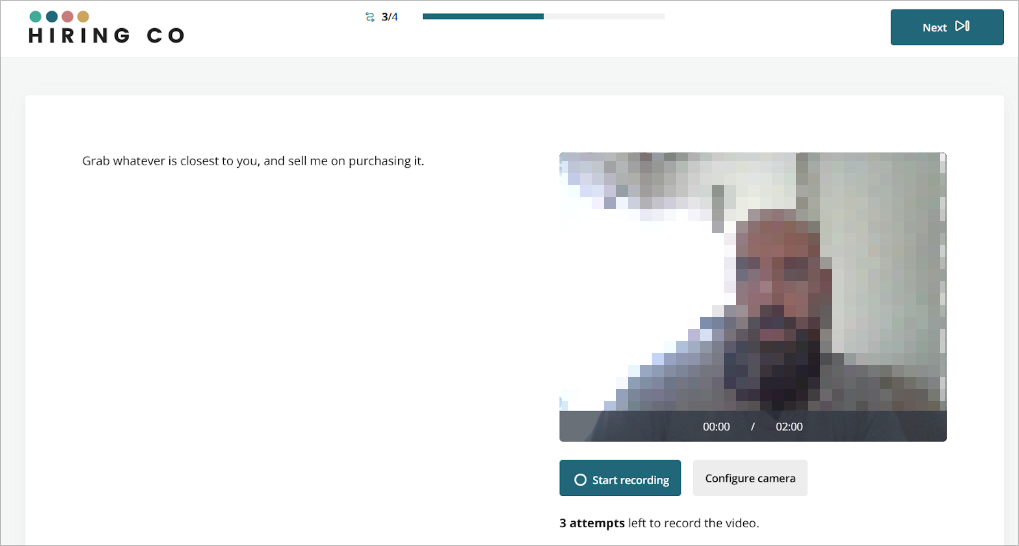 File upload
A question that the candidate answers by uploading a document file.
When to use
When you'd like to see examples of past work or other relevant documents
Time limit options
10 minutes
20 minutes
30 minutes
40 minutes
50 minutes
1 hour
2 hours
4 hours
12 hours
1 day
2 days
3 days
7 days
Accepted document types

CSV/ XLS/ XLSX

DOC/DOCX

TXT

PPT/PPTX

ODP (Open document presentation)

KEY (Apple keynote file)

PNG/JPG/PSD/BMP/GIF (for the image upload we already have)

PDF
Example of use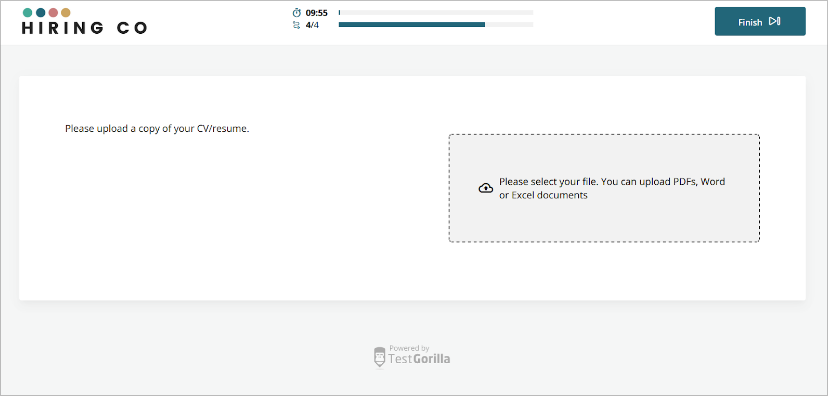 Code
A coding challenge created by your own developers
When to use
If your developers have their own coding challenges to test candidates
Time limit options

10 minutes
20 minutes
30 minutes
40 minutes
50 minutes
1 hour

Languages available
Python
JavaScript
TypeScript
PHP
SQLite
Java
Kotlin
Swift
C
C++
C#
Ruby
Go
R
Scala
Example of use
Adding custom questions
To begin adding your own questions, you first need to create a new assessment or edit an existing one. Upon reaching Step 3: Add questions, you will find the page split into 3 sections:
| | |
| --- | --- |
| | The custom questions table displays your chosen questions in the order they will be presented to your candidates. |
| | Create your own questions by clicking on the required tile. A popup window will appear with the question editor. Questions are added to the table as you save them. |
| | Select from our library of custom questions at the bottom of the page. This portion can be searched and filtered to help you find the ideal question. |
Note: You can only add or change custom questions in an assessment that has not yet had candidates invited. This article provides more information about why that is.
Multiple-choice, video, essay, and file upload questions
To create your question, select the question type you want to add by clicking the relevant tile. The question editor will appear as a popup window, like the one below for a multiple-choice question.
Note: If the tile has a yellow diamond icon next to it, this means the question is not included in your current plan. You will need to upgrade your plan to use it with external candidates.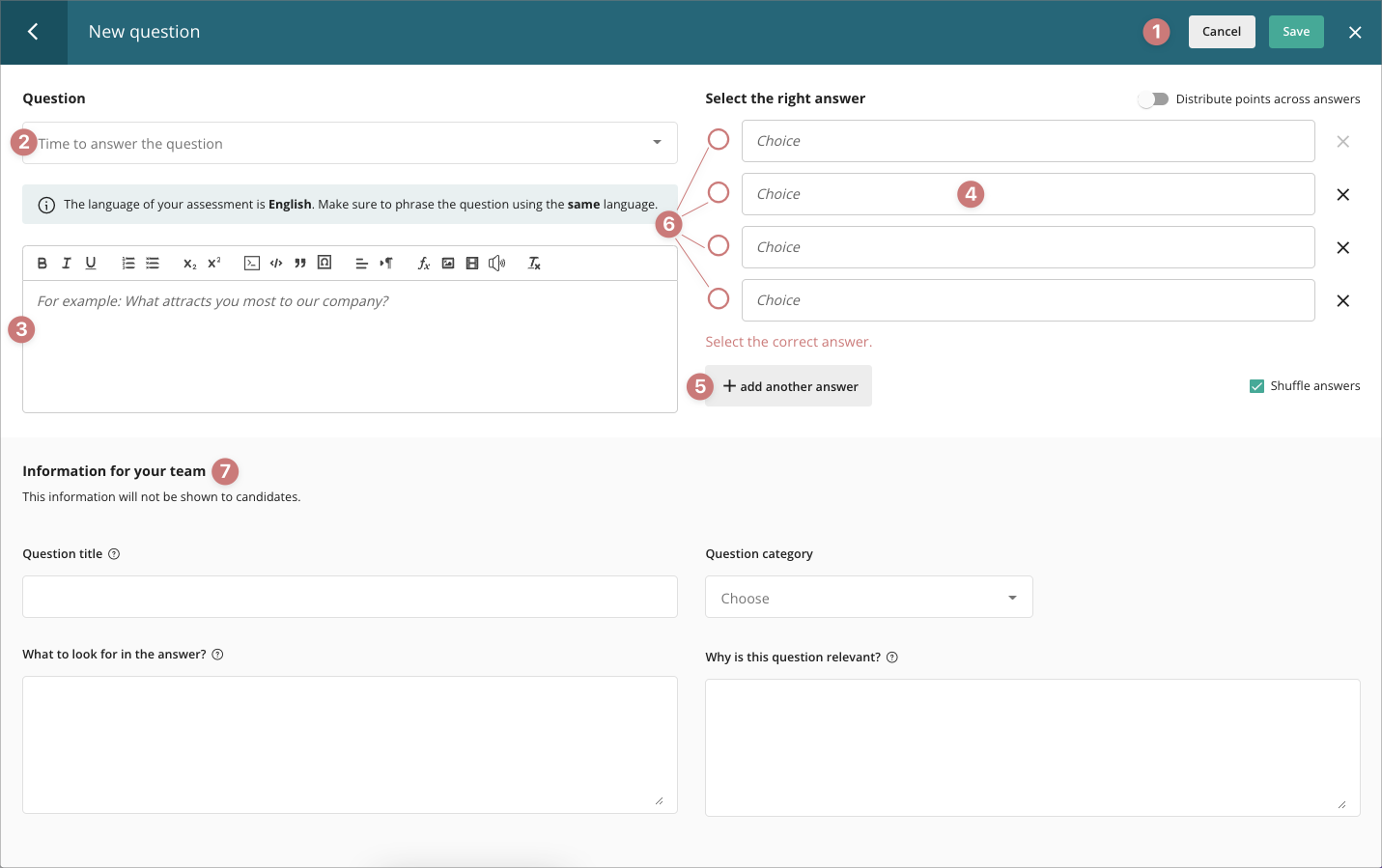 | | |
| --- | --- |
| | Cancel or save your question or exit the editor, in the toolbar at the top of the page. |
| | Select a time limit from the dropdown menu. |
| | Enter your question in the text box on the left. We suggest being as thorough as possible, to give your candidate the best chance of success. Give them all the information they will need, in a clear and concise manner. You can format the text of the question using the toolbar at the top of the box. |
| | Input your answers in the text boxes on the right. You can format the text of your answers by clicking in the text box and using the formatting editor that appears. |
| | Add another answer with the button below the answer options. Remove answers by clicking the X next to the answer. You can have between two and ten options — 4 options is the default. |
| | Select the correct answer by selecting the circle next to the relevant answer. If your question has multiple valid answers, you can choose to distribute points across answers by selecting the toggle above the answers. This gives you the option to rate each answer on a scale of 0-5. |
| | Information for your team is at the bottom of the page. This is an optional section that allows you to pass along information to help other members of your team who might review assessment results. |
Note: Items 4-6 in the above list only apply to multiple-choice questions. Essay, video, and file upload questions do not require that you assign answers.
Coding questions
Coding questions require that you create a coding scenario for your candidates to work through. You will need to have an expert in your required coding language to create your question for you.
We have a dedicated guide for creating coding questions here.
Reordering and deleting
Your created questions will be displayed on a table at the top of Step 3: Add questions page. Hovering over a question will change its color, some icons will appear at the far right of the question.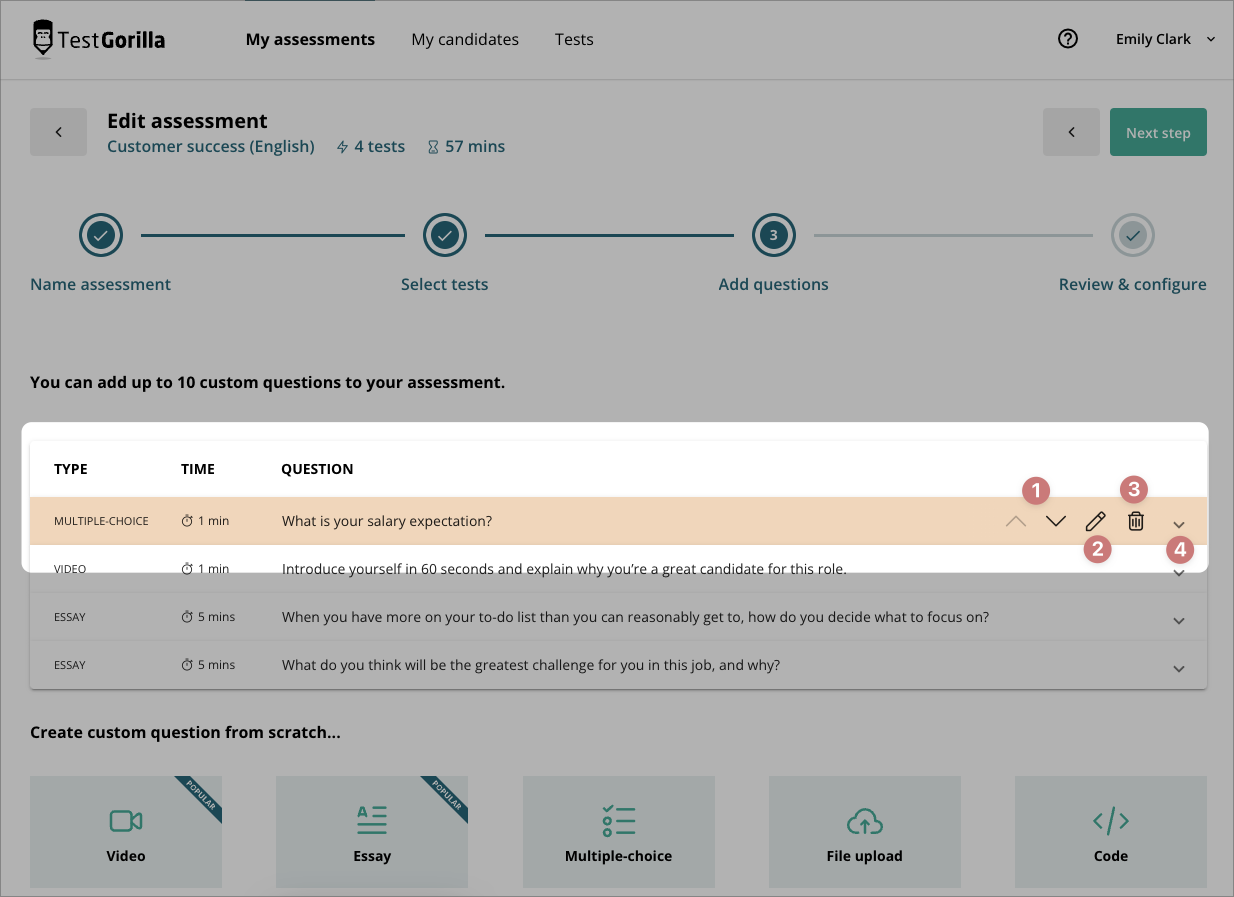 | | |
| --- | --- |
| | The up & down arrows will change the position of the question. The question at the top of the list will be presented first. |
| | The pencil icon allows you to edit your question. |
| | The trash icon will delete the question from your list. You will be presented with a popup message asking you to confirm this, as deleted questions cannot be recovered. |
| | The small down arrow at the end will expand the question, showing you its content. |
Using the custom question library
The custom question library contains questions created by us, along with any questions you have created in previous assessments. The custom question library has two parts:
Searching and filtering
The left side allows you to search and filter the questions. The results of the filters you choose are displayed on the right side of the page, and will actively refresh as you make selections.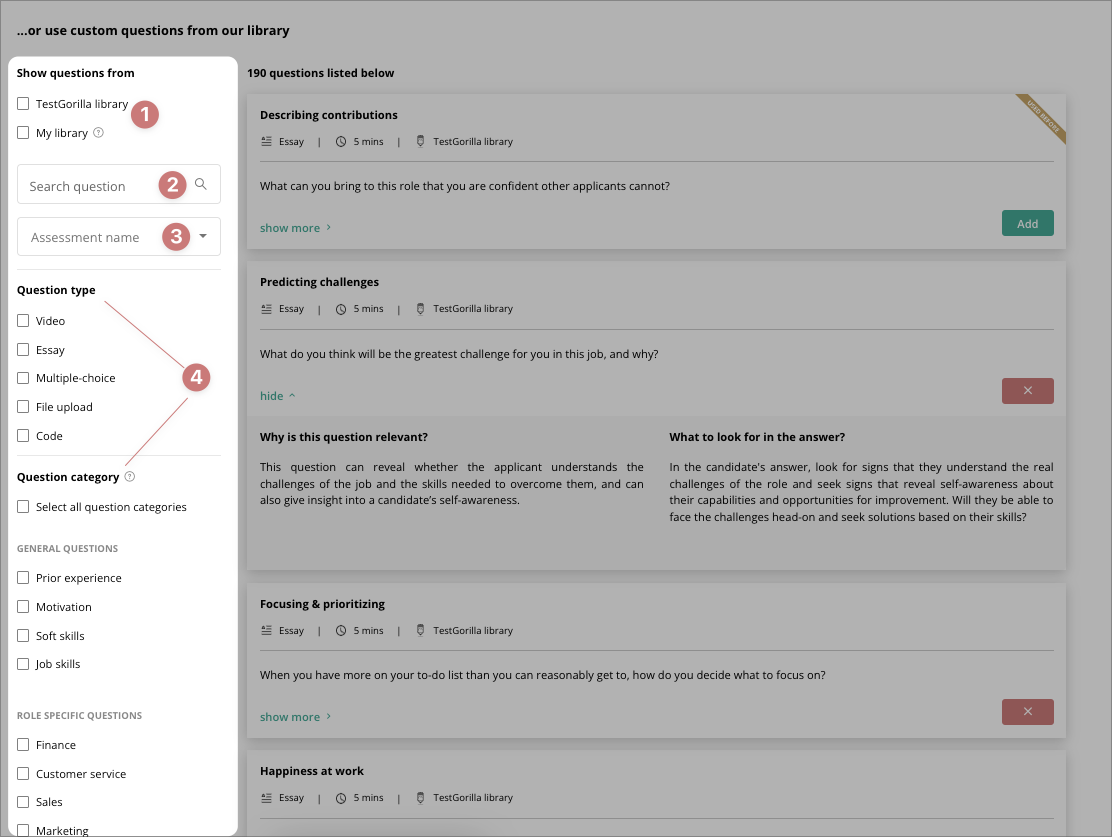 | | |
| --- | --- |
| | Check the boxes to see only TestGorilla questions, your own questions, or both. |
| | Perform a keyword search to find relevant questions. Try searching for a particular skill or subject. |
| | Select a previous assessment from the drop-down to view questions you have used before.Questionsyou have used in other assessments are easily identified by a yellow banner in the top-right corner labeled Used before. |
| | Search by question type or category by checking the relevant boxes. |
Note: If you choose to search the library for your own questions, you will only be able to view questions from assessments you have access to. See our article on Advanced user rights for more details about this.
Selecting questions
The questions in the custom question library have a few selectable options: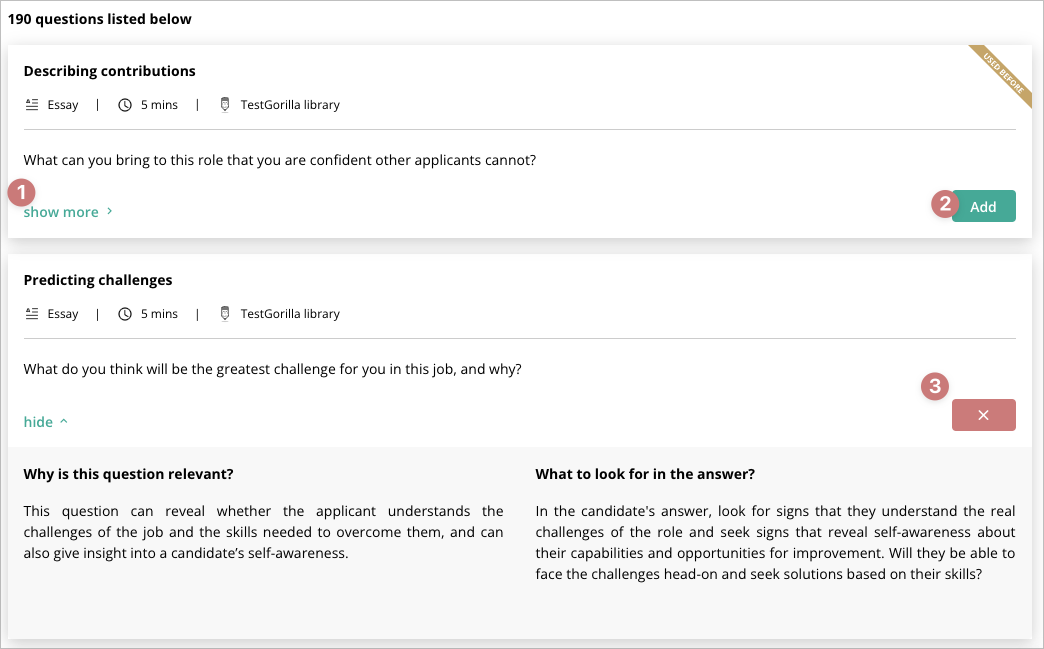 Show more will expand the question, giving you further information:

Why is this question relevant?
What to look for in the answer?

Click the green Add button to add a question to your assessment. This will add the question to the bottom of the custom question table found at the top of the page.
The Add button will be replaced with a red X button after the question is selected. Click this if you want to remove the question.
Reviewing your candidates' answers
When you look down on a candidate's results page, you'll see his or her individual answers to your custom questions. By clicking the icon in the View answer column, you'll be able to view the answer for each question, including video responses and file uploads. You can also rate each individual answer here.
Our custom question rating system allows you to rate the answers provided by your candidates from their results page. You can score their submissions on a scale of one to five stars, and leave supporting notes for other team members to view.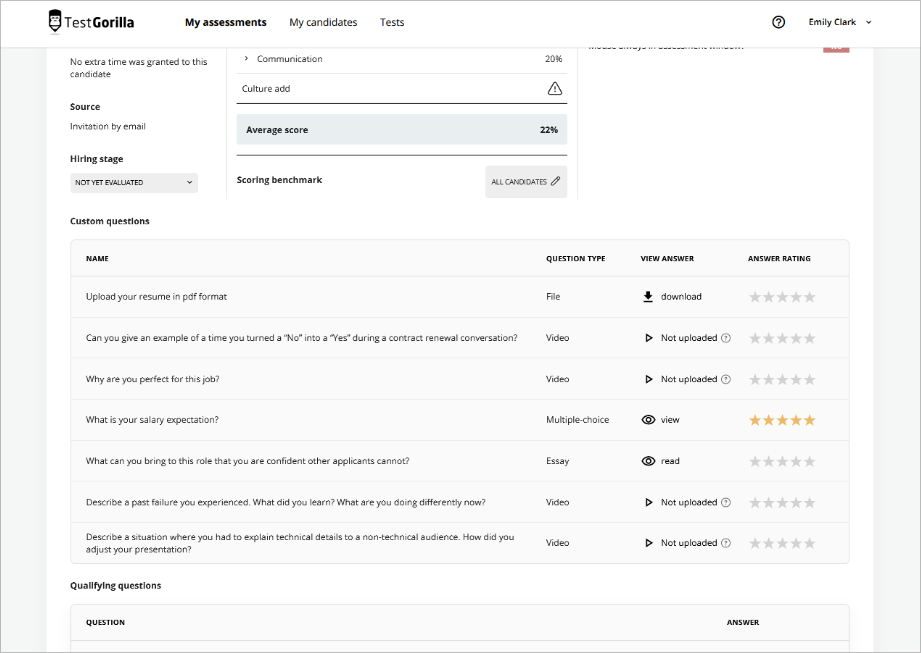 Video explainer
The below video explains the usage of custom questions in a nutshell.
Common questions
Can I purchase individual question types not included in my plan?
It isn't possible to do this. You can only use the question types included with your plan. You will need to upgrade to use other types.
Can you help me create a coding question?
While our success team can offer assistance with the process of creating a coding question, we cannot help with the actual content of it. We recommend having an expert in a particular coding language help you create your question.
Can I change the custom questions later?
You can edit any part of your assessment right up until you invite your first candidate. After this, no edits can be made. This is to keep things fair to all candidates who are taking an assessment.