An overview of the process from making the request to the effect it has on the assessment
We recognize that candidates have different requirements to achieve the best results when taking your assessment. It could be that they are not natively fluent in the language of the assessment or that they have a disability affecting their memory and cognition. For these reasons, TestGorilla offers your candidates the ability to request modifications so that they can perform their best and so you can make your hiring decision bias-free. This article is relevant to TestGorilla users with the Owner and Admin roles.
Approx. reading time 4 minutes
In this article
Types of accommodations available
Before beginning an assessment, candidates are asked about their fluency in the language of the assessment and about any conditions that could affect their memory or cognitive ability. If they signify they are not natively fluent or have such a condition, we make allowances to ensure they have a good experience and show their skills to the best of their ability.
Note: The ability to request accommodation is turned on by default, but you do have the option to turn it off in the Advanced settings of the assessment creation process.
Why does TestGorilla offer this?
As assessment providers, we must ensure that the tests and tools we provide to customers fall within the guidelines set by agencies such as the EEOC and ADA . This allows you to use our product without the issue of staying within those guidelines.
According to the US Equal Employment Opportunity Commission, the Americans with Disabilities Act makes it unlawful to:
Use employment tests that screen out or tend to screen out an individual with a disability or a class of individuals with disabilities
Fail to select and administer employment tests in the most effective manner to ensure that test results accurately reflect the skills, aptitude, or whatever other factors that such test purports to measure, rather than reflecting an applicant's or employee's impairment.
Fail to make reasonable accommodations, including in the administration of tests, to the known physical or mental limitations of an otherwise qualified individual with a disability who is an applicant or employee,
This effectively means that if our tests do not provide the option for these accommodations — by asking candidates the relevant questions — our product cannot be used as a testing instrument by our customers.
Candidates' request process
By default, each candidate will be shown the Assessment setup screen after entering their information and before starting the assessment. Here, they will have the option to request accommodations for language and/or disability.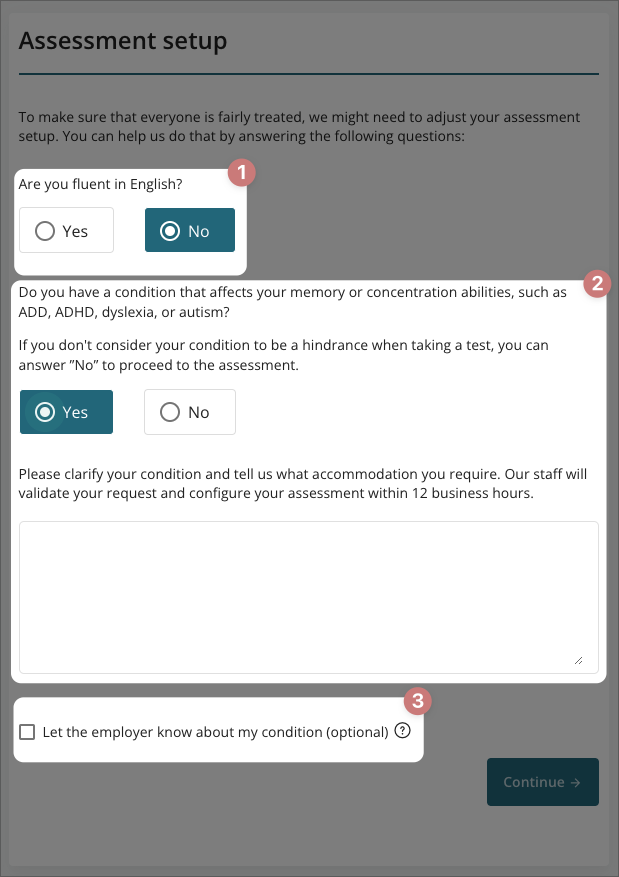 | | |
| --- | --- |
| | Is the candidate a fluent speaker of the assessment language? Saying No will trigger a request for accommodation based on their language needs. |
| | Does the candidate have a concentration or memory disability? Saying Yes will cause another box to appear asking for more details so our team can make a decision about how to accommodate the candidate. |
| | Check box to let you know about the request. By default, this box is unchecked. If the candidate checks the box, we will inform you that a request was made and how the accommodation was given, but we will not inform you of any details regarding the candidate's specific disability. |
If the candidate indicates they need an accommodation for the assessment, they will be shown a message stating we will reach out to them via email to let them know when they can start the assessment after our review process, which takes up to 12 business hours.
Granting accommodation requests
TestGorilla side
Once a request for disability accommodation has been submitted, our customer success team will review it and grant or reject an accommodation based on the information provided.
Our team will address your candidate's request within 12 business hours by emailing them with an update if the accommodation that was granted, and how to move forward with the assessment.
With disability requests, if the candidate misunderstood the question, or our team finds their request lacking in information that allows us to make a decision, we will indicate so in the email notifying them of our decision. A candidate can always contest a decision and ask for a revision if necessary.
Note: Accommodations for non-native fluency are never granted to language tests in the language of the assessment.
For example, you create an assessment in English, that contains three tests: English B1, Mechanical reasoning, and Negotiation. If a candidate indicates they are not natively fluent in English, they will receive accommodation for the Mechanical reasoning and Negotiation tests, but not for the English B1 test.
Candidate side
Once we address the request, an email is sent to the candidate notifying them of our decision.
If we granted their request, we explain the accommodation is being provided and link them to their assessment.
If their request was rejected, the email contains a message indicating we did not grant them an accommodation and link them to the assessment with the original settings.
Customer side
Once a candidate has completed the assessment, any accommodations granted will be displayed on their individual results screen.
Common questions
Do I have to keep this feature on?
You can disable the non-native fluency accommodation and the disability accommodation requests. However, please remember that not allowing disability accommodation requests may mean you are not following your local fair employment laws and regulations. If you're unsure, we recommend seeking legal advice before disabling them.
Is this legal?
Regulations vary depending on your region. In most countries with equal employment laws, providing the option for accommodation is not only legal but is required. If you are unsure of the laws in your region, please see legal counsel from a certified professional for your region before deciding how to proceed.
Can I see the details of the candidate's request?
No. Candidate's have the option to check a box that will let you know about their request. By default, this box is unchecked. If the candidate checks the box, we will inform you that a request was made and how the accommodation was given, but for privacy, details of the candidate's request will not be provided.
Can the candidate object to the decision made about their request?
Yes. If the candidate disagrees with the decision, they can reply to the notification email so our customer success team can instruct them on further steps.
Disclaimer: The information contained in this site is provided for informational purposes only and should not be construed as legal advice on any subject matter. If you have any questions about disability accommodations in your area, please consult with a lawyer.