You can try most premium features for free, regardless of your plan level.
We know how frustrating free plans can be: how do you know you want to upgrade to a paid plan until you have a chance to try out the features of that plan?
The great news is that you still can. You can test out most premium features and all premium tests within your free plan. This guide explains how you can do this. This article is for any TestGorilla account user looking to try Premium features for Free.
Approx. reading time 4 minutes
In this article
Video explainer
The below video provides a bit more information, or continue reading for more details.
How to try premium features
Trying premium features is as simple as adding them to an assessment.
Premium features are identified by a yellow diamond icon.

While creating your assessment, you can add one or more premium features to it.
Once you've finished creating the assessment, you can then test the assessment internally by inviting yourself or other registered account users to take it. This enables you to experience the premium feature or test just like a candidate would.
List of features you can try
The following features can be trialed using a free account:
All tests from the TestGorilla test library
My company tests
Custom questions not included in the free plan:
Qualifying questions
Welcome videos
When you hover over a premium feature, a tooltip will appear indicating whether the feature can be trialed and specifies which plan it is accessible from.
List of features that cannot be tried
The following features do not have a trial version available:
Bulk invite (CSV/XLSX uploads)
Unique public invitation links
PDF reports
When attempting to try one of these features, you will receive this popup message:

Example of trying premium features
Perhaps you need to hire Customer Success staff to wear a variety of hats — they need to be able to write clear email and chat communications, troubleshoot code, and hop on customer calls, with potential upsells.
Before signing up for a paid plan, you want to see how this premium assessment would look like. An assessment like this would be best when it includes the following:
Tests
Custom questions
One or two multiple-choice questions, more specific to your company
One or two essay questions, so you can get a feel for your candidates' writing style
One or two video questions, to provide more insight into how your candidate will perform on a video or phone call
A file upload, with a copy of their resume
You can make this assessment the same way that you would make any other assessment.
| | |
| --- | --- |
| | Create a new assessment or edit an assessment that hasn't yet had any candidates invited to it. |
| | Include the tests and custom questions you'd like to try. |
| | Invite one of your current team members to take the assessment. |
Remember, whoever you invite needs to be a registered user of your TestGorilla account. To test the assessment they need to simply click on the link in the invitation email. They should not create an independent account with their email address.
When they're done with the assessment, have your team member share their feedback. You can also review their results the same way you would a real candidate.
Once you're ready to send the assessment to external candidates, simply upgrade to the appropriate plan and start sending out those invites!
Inviting external candidates to an assessment with premium features
Of course, the easiest way to invite external candidates to a premium assessment is to upgrade your plan. But if you're not ready to do that, you can still use the assessment — you'll just need to remove the premium features from it first.
You'll know an assessment is Premium because it will have a yellow or red diamond next to it.
Yellow diamond
If your assessment has a yellow diamond icon next to it, and no internal candidates have been invited, you can edit the assessment and remove the premium feature. The diamond icon should act like a breadcrumb to help you find the feature.
Red diamond
A red diamond is used to indicate a premium assessment that you will not be able to review without upgrading. This is a rare occurrence and only happens if you once had a paid plan that was not renewed. You will not be able to review the results of candidates who took a premium assessment without a paid plan.
You will need to upgrade your plan to access historic assessment results.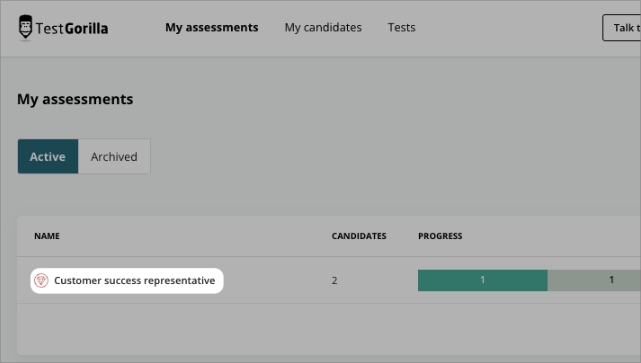 Removing premium features
There are two ways of removing premium features from an assessment.
You can remove all premium features from your assessment by clicking Remove all premium features under the Invite candidates banner.
This will bring up the following screen, which will list all premium features currently included in the assessment, as well as which plan the feature is available on. Click Remove all to continue with removing all premium features.
To manually remove individual premium features:
| | |
| --- | --- |
| | Open the assessment. |
| | Locate the test and custom questions that have a yellow diamond icon next to them. |
| | Edit the assessment and remove the premium test and custom questions. |
Removing premium features will allow you to invite external candidates to the assessment. If internal candidates were invited, you'll need to clone the assessment before you can edit it.
If you're struggling to find the premium feature you're using, it's likely that you have too many custom questions for your plan type. Be sure you don't have more than you're allowed for your plan.
Common questions
Some features can't be trialed. How can I see how they actually work?
You can register for a demo with one of our sales team, who will be happy to show you these features in use.
Can I send my assessment to myself?
Yes! You'll just need to use the same email address that you use to log in to your account. You can only send an assessment that includes a premium feature to registered account users. Make sure you are inviting the email address you registered with, and not an alternate one.
Can I send my assessment to other team members on my account?
Yes! Any team member registered under your account can be invited to try an assessment.
Can I purchase any of these features individually?
Unfortunately not. You will need to upgrade to the relevant plan to use these features.